what I wore in Paris
Hey lads! How are we all? Thought I'd share a few of the pieces and outfits that I wore whilst on a weekend soiree with Kim in Paris.
I booked it for our anniversary, which was back in July, but it was lovely to drag it out a little bit and celebrate a few months later again. We didn't do anything overwhelmingly exciting, just swanned about and ate good food and drank good cocktails.
So here's what I have to show for it!
Find all the pieces I could link at the bottom of the post.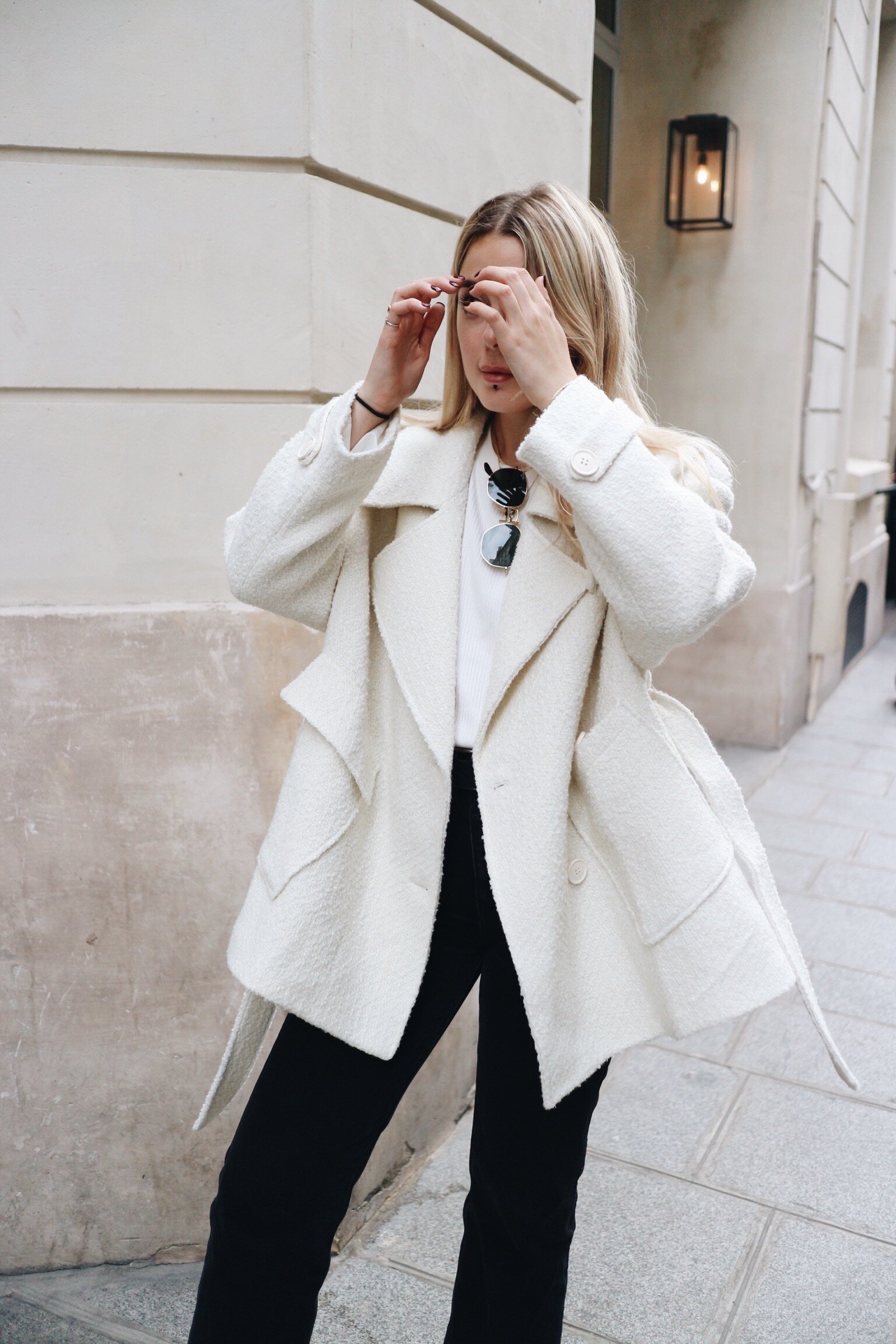 I bought this coat in The Frankie Shop and I'm obsessed.
So happy to finally own a piece from them. The shape is amazing and unlike anything else I've seen on the high street. The cut is beautiful and so flattering. You guys were fairly split when I asked for your opinion on IG but naturally I did it anyway.
I've got lots of new coats and jackets recently, as you can tell! I picked up three from ASOS which was refreshing as I've not found much I liked on there in a while. I am obsessed with this pocket detail beige wool coat, it's smart but also really masculine which I love. I also nabbed this trench as it's such a staple and while I can't afford a Burberry one, this stone babe will definitely do. Although I must say, that bizarre belt that came with it went straight in the bin.
The new boot additions were also ASOS (they kindly gifted me some new pieces, as you can tell I got excited and wore them all at once!) and I really wanted to try out a knee high boot. I assumed they were a bit mumsy but I felt so sexy in this black leather pair. I paired them with this little black skirt which I actually made, but is identical to this Reformation one. I also had to have these beige square toe boots as they reminded me so much of the Céline pair that everyone had last season. I can entirely vouch that they're super soft leather and amazing quality too which is fab for the high street.
In terms of accessories, I'm always a bit crap with these when I travel, I only tend to take the jewellery I wear every day and then potentially two pairs of sunglasses if you're lucky. I am a vaguely light packer, or so I tell myself. This time I took my new Rayban hexagonal shaped sunglasses which I've loved for ages but thought never suited me. I'm still not sure that they don't make me look like one of the three blind mice but we're wearing them anyway.
I took my Céline tote with me as it's big and fitted my laptop for the Eurostar which was handy, but it doesn't close which is a bit dubious when in a pickpocketing capital. I managed to badly scratch it the week that I bought it which still brings a tear to my eye every time I use it. I also threw in my old Sandro Lou bag for the evening. I was gifted this a few years ago and I really treasure it. They retail for around £200-300 if you can still get hold of one but I've worn it so much that it's definitely earned its' keep. It was the first luxury item I was ever gifted so it's pretty special to me.
Next is Bali! Do you like these kind of round up posts? Can definitely try and do one for Indonesia too if so.
G x